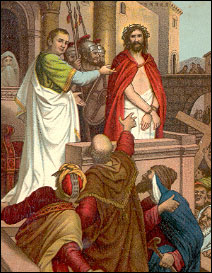 As the season of Lent approaches, I am filled with excitement and hope as I always seem to be at the
beginning
of any sacrifice I intend for Our Lord. The start of Lent is a chance given to me, once again, to start anew with a clean tablet, to examine my life in it's current state, reflecting on the areas in which I have strayed from the Way - the Via
Crucis
, my one and only path to eternal rest.
Lent is a perfect time to pick ourselves up out of the ditch and wipe off the mud, to turn our course, and get back on that road so perfectly designed for us, not only because this season of the Church is by it's nature sacrificial, uniting us to Christ on His cross through our suffering, but also because it is during this time of year that we stop everything we are doing to recognize and meditate upon the
first step
toward salvation - the realization that we are condemned to death.
How perfect that at the
beginning
of these forty days the ashes on our foreheads will remind us of our fate; that the very
first
Station of the Cross is Jesus being condemned to death. It seems the Church is showing us just how to begin our path from Lent to Easter, and from this world to the next. And the road begins with death at the forefront of our minds.
Death is frightening. At least it is for those of us who fear God's wrath for our sins and what we deserve on account of them. But what a perfect and honest beginning it is. It is true, we could forge ahead and give up meat or dairy or coffee or sweets, take cold showers in the morning or kneel on jagged rocks when we pray, but what good will be merited if we haven't first reflected on the fact that we are going to die? It seems that recognition of death is the best way to discern how to spend Lent, what sacrifices to make, where to incorporate more prayer and in what areas we can increase in love. For we are most honest with ourselves at the hour of death, and thus reflecting on that end we will choose penances more fitting to what we truly need to get back on our course.
I love the beautiful story of Saint Charles
Borromeo
who was with his
confreres
one afternoon when they were approached by a man who asked what they would do if they suddenly discovered they were to die that very night. One brother responded that he would head straight for the chapel to pray the rosary. Another said he would go to Confession and make a firm Act of Contrition. Another replied that he would go to mass. Finally, Saint Charles, who was in the middle of playing a game of chess responded, "I would finish this game of chess, because I began it for the glory of God, and I will end it for the glory of God."
Saint Charles was already doing everything for God. He did not need to change his course. In these next days before Ash Wednesday, my hope is to examine how I would answer that same question asked of Saint Charles about his course in the face of death, and then to spend the rest of Lent striving to accept and follow the path that has been chosen for me. Unfortunately, this type of examination does not come easily to me as I am not one to ponder negative thoughts often. I am very good at Easter, but not so good at Lent. So may I ask for a "Hail Mary" from you, dear friends, that I will do better this year?
May we all have a beautiful season of Lent this year, and live as though it were our last.+++